Here's your chance to launch a lucrative business working with dogs. Wag N' Wash, a top pet franchise, is offering a 30% reduced franchise fee. Save nearly $15,000 when you sign by September 30, 2023.* To get started, simply fill out the form at the bottom of this page.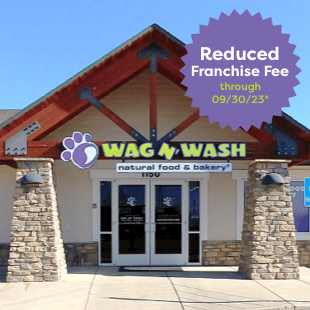 Have more questions? Learn about franchise and royalty fees, what's included and how to get in touch with our franchise development team below.
What is a franchise fee?
A franchise fee is a fee that you pay a franchise company, or franchisor, up front for the ability to use their brand and business model. In other words, it's the cost of admission.
Why do I have to pay a franchise fee?
If you started a business on your own, you'd have to develop a brand and business model from scratch. When you purchase a franchise, a franchisor has already done that step, so you don't have to. First, they need to launch a successful business. Then, they have to create a process for other people to easily build and run that business. This involves intensive documentation and training in:
Product development
Brand building
Vendor connections
Daily operations
Business planning
Team training documents
Building blueprints
And much more
By paying the franchise fee, you are essentially purchasing a head start. While it may seem like a lot, you might change your mind when you see the average profit a Franchise Owner makes. Wag N' Wash Franchise Owners, for example, enjoy a $1.4M Average Unit Volume.**
How much are franchise fees?
Franchise fees range depending on the industry and the franchise. For example, Wag N' Wash typically has a $49,900 franchise fee. However, we are currently offering a 30% reduced fee. Only pay $35,000 when you sign by September 30, 2023. Unlike many other franchises, Wag N' Wash's franchise fee also includes the cost of training and searching for real estate while many competitors charge extra fees upwards of many thousands.
What other fees do I need to know about?
While a franchise fee gets you in the door, there are other fees associated with opening a business. You'll likely take out a business loan for startup costs such as:
Real estate
Equipment
Products
Staffing
Another cost to think about is royalties. This is a percentage of your profits that you pay to the franchisor to continue operating under their brand. If a franchise fee is your cost of admission, royalties are your season pass. Like franchise fees, this number can range from low to high.
Wag N' Wash offers the lowest royalty fees in the category at 2% for the first six months, 3% until 12 months and a final increase to 4%. Compared to the 5-7% that's required by most other pet franchises, Wag N' Wash helps keep more profits in your pocket.
Why own a dog wash franchise?
In addition to the fact that Wag N' Wash is offering a reduced franchise fee and the lowest royalty fees in its category, there are many other reasons to choose a dog wash franchise.
Dog washing is a recession-resilient business. People have pets and pets need baths. A recent report found that 65% of 18- to 34-year-olds plan to get a pet in the next five years, helping drive what's expected to be a 14% increase in pet ownership by 2030.
It's fun and meaningful work. Dog grooming franchises offer an important service to their communities. You'll have the chance to connect with pets and pet lovers alike.
Caitlin Greene, a Wag N' Wash Franchise Owner, says, "I've been able to give back in the community in ways I never thought I could before and make a pretty good living at it."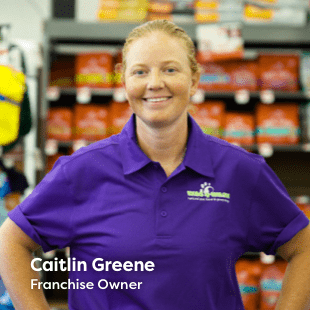 Learn more about Wag N' Wash
If you love pets, work hard and are passionate about customer service, a dog grooming franchise could be the perfect fit. With low fees, a strong AUV and best-in-class support, Wag N' Wash is a great way to blend your passion with a proven business model.
To learn more, simply fill out the form below, and someone from our Franchise Development Team will be in touch.