What could be better than making money while getting to spend time with dogs? For pet lovers, the idea of a dog grooming franchise might sound too good to be true. Thankfully, dog wash franchises are not only a great way to build a meaningful career around something you love, they're also an excellent investment opportunity in a growing industry. Here are some recent statistics to help you understand more about the appeal of pet franchises.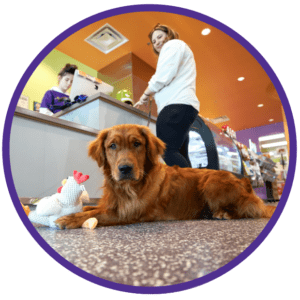 The average dog owner spends over $1,200 per year on their dog.
Between food, treats, toys, training supplies and grooming, pet expenses add up quickly. In fact, pet owners spent over $120 billion in the U.S. in 2021. According to the American Pet Products Association (APPA), $50 billion of that was spent on food and treats, and another $9.5 billion was spent on services including grooming. With a pet franchise, you could capture some of that revenue. Even better, choose a pet franchise that offers all of the essentials in one place. For example, Wag N' Wash — a top dog grooming franchise — provides:
Grooming services
Self-wash stations
Take-home grooming products
High-quality food
Custom pet treats
Toys, apparel and accessories
Health and wellness essentials
Unsurprisingly, the number one type of pet in the U.S. is a dog —with cats as a close second. While Wag N' Wash is primarily a dog wash franchise, they also offer a wide range of products for both cats and dogs, appealing to a wide customer base. By owning a multi-faceted pet franchise, you'll not only diversify your revenue, but you could be the one-stop-shop for pet owners, generating reccurring business.
70% of households have at least one pet.
Pet ownership has been on the rise for decades and recently spiked during the COVID-19 pandemic. In fact, 11 million new pets were added during the pandemic. According to the APPA, the pet industry continues to see increased sales every year:
2017 — $69.5 billion
2018 — $90.5 billion
2019 — $97.1 billion
2020 — $103.6 billion
2021 — $123.6 billion
Even in times of recession, pet products prove to be in demand — close behind baby products in recession resilience.* When many industries struggle, pet franchises like Wag N' Wash benefit from pets being essential parts of the family.
Unlike other franchise industries, a dog wash franchise has very little equipment and fewer employees. This simplified business model, combined with a steady demand, help make dog grooming franchises less susceptible to the changing economy.
With 70% of U.S. households owning a pet, that's 90.5 million families that need a reliable place for grooming and high-quality pet products. As the owner of a pet franchise, you can help supply people with what they need for happy, healthy pets.
4% is one of the industry's lowest royalty fees.
When it comes to opening a dog grooming franchise, one of the key terms you'll want to know is "royalty fee." This is the percentage of profits you pay to the franchisor for using their policies, procedures and brand. The lower the royalty fee, the more profit you keep. At 4%, Wag N' Wash offers one of the lowest royalty fees in the industry.
Wag N' Wash Franchise Owners also enjoy an Average Unit Volume (AUV) of $1.4M.** This number helps give you an idea of what a typical franchise could produce in sales every year. As you consider which dog grooming franchise to partner with, be sure to compare their royalty fees with their AUV for an idea of how much you'll pay versus how much your franchise could make.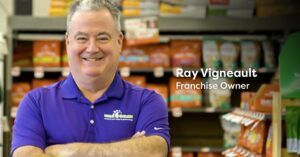 Ready to Own a Dog Grooming Franchise?
It's clear that the pet franchise industry has great opportunity. Not only are more people getting pets, but they're spending more on their pets as parts of the family. If you're looking to turn your passion for pets into a smart business, joining a dog grooming franchise could be the answer.
To get more information about opening your own dog grooming franchise, simply fill out the form below. Someone from Wag N' Wash will reach out to you!
*Cowen COVID-19 US Internet Consumer Tracker, June '22
*This information can be found in Item 19 of the 2022 Franchise Disclosure Document issued by WNW Franchising, LLC. The data reflects the calendar year beginning January 1, 2021, and ending December31, 2021, and shows the data for 14 Reporting Financial Stores that were open and operating for 12 months as of December 31, 2021. There is no assurance you will do as well. If you rely upon our figures, you must accept the risk of not doing as well. This is not an offer to sell you a franchise. Franchises are offered by prospectus only.